The Hells Valley Trail Package is perfect if you are looking for a flexible combination of easy hikes and options to take in other activities (or just relax) in nature. On your first day we set you up with one of our own local hiking guides who will take you on a hike. Our guide will make sure you are well equipped for your next day of hiking on your own.
We Handle All The Detail
Guided (half day) Hike included
Hotels included
Stay in a Black Forest mountain town
Well Marked & Easy to Navigate Tracks
We are only a phone call away
If you are a beginner hiker and prefer a guide on your side – this is the package for you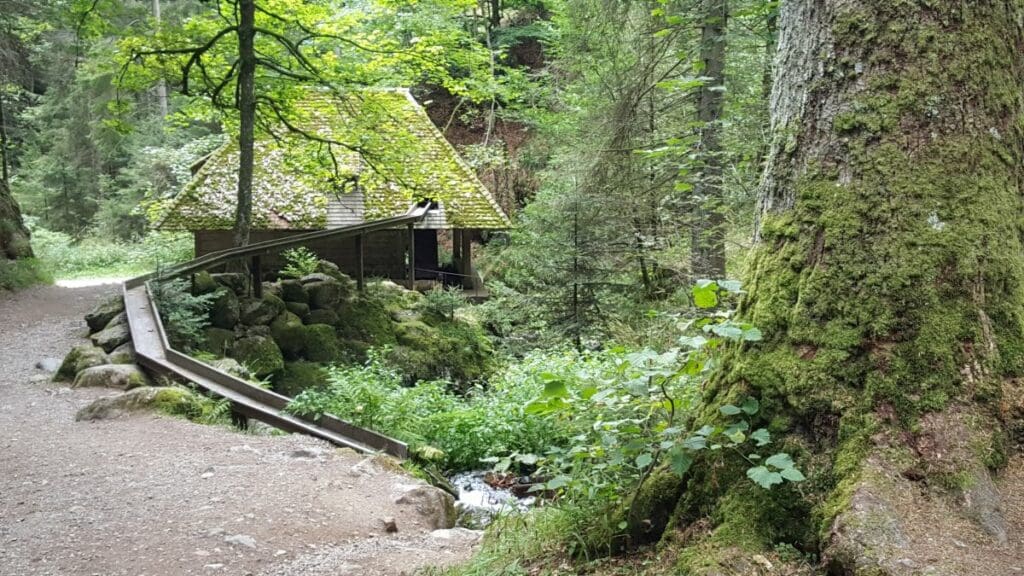 A Guided hike: the best way to start your hiking adventure
On your first day, our hiking guide will take you on a hike exploring the countryside. The hike itself is only 8 km long – but we have included lots of stops, therefore it can take a few hours before we get you back to your hotel – depending on your fitness level. This is a private hiking tour just for you. No one else will be joining the tour. This is one of our most popular hikes because you really get it all.
Besides the classic, dark Black Forest gorge hike next to waterfalls, you get a lot of Black Forest history, a few touristy things, the oldest chapel in the Black Forest, the areas largest cuckoo clock. And the option to have a beer in a typical Black Forest inn. This hike takes you down into a valley famous for its ancient mills that once made everything from rope to spoons. You will see how people thrived hundreds of years ago. Your local guide has lots of stories to tell. You are in for a real treat!
Flexibility it is!
Our Hells Valley Trail Package provides you with a lot of flexibility. You are staying  in a family-owned small hotel in a beautiful mountain town in the Southern Black Forest, less than 60 minutes away from Freiburg. Perfect base to explore sights and do some hiking. Due to its location The Hells Valley Trail Package provides you with many other options besides hiking. Do some sightseeing on your own (public transportation is free), or go for a swim in the lake. On the second day of your trip we set you up with one of our drivers for a half day driving tour, there are several itineraries to choose from.
What's the area like?
The terrain of the Southern Black Forest (where the Hells Valley Trail is located at) is postcard perfect. This area has the sunniest and warmest weather in Germany. The terrain is composed of mountain meadows while thick forests and steep ravines dominate the higher elevations.