Great hiking package for beginner hikers. Or people who like a bit of activity during their day while enjoying nice hotels and good food. You are staying in 3 small Black Forest towns known for their hospitaly. We place you in well-chosen hotels off the beaten tourist path. If you have more days available we recommend adding-on a day in Freiburg at the beginning or end of your hike.
We Handle All The Details and Logistics
Luggage Transfer Included
Hotels Included
starting at 2 days
Detailed Route Descriptions & Maps
We are a phone call away, just in case
Easy hikes and plenty of views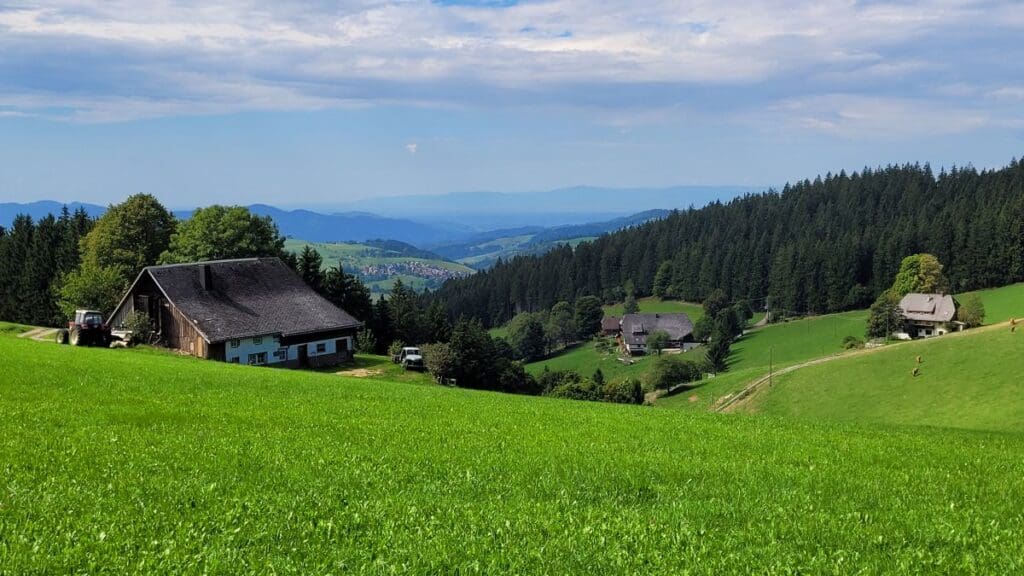 Good combination of hikes
We haven chosen 2 popular hikes for you which provide you with a good introduction to the Black Forest. You are staying in 3 small mountain towns, family-owned hotels.
Arrival Day. To get to the trail head you will take the train from Freiburg into the the mountains. Here, a little below 1000 metres, you find your first hotel. Explore this town on your arrival day. Depending on your time of arrival we already put you on a 4 km long trail. (Good to know: If you are interested in some touristy sights, for example Lake Titisee you can visit them on your arrival day).
Day Hike 1. The hike on your first day takes you through a dark Black Forest gorge where you see waterfalls, a few touristy things (a large cuckoo clock for example!) and also the oldest chapel in the Black Forest. You will cross through a valley famous for its ancient mills that once made everything from rope to spoons. You will see how people thrived hundreds of years ago. After the hike you hop on a bus taking you via the Panorama road to another pretty Black Forest town. Great hotel with wellness area! Your luggage is already waiting for you at the hotel.
Day Hike 2. The hike on the second day is one of the hikes Rick Steves' calls 'Must-Do' when visiting the Black Forest. This hike is very well known amongst locals – and most likely you will run into locals during this hike. No worries – we provide you with all the background on what you will see on the trail – and even show you how to use the water pools placed in the forest!
Oernight in a small Black Forest town and enjoy dinner at the hotel restaurant – a place which has one many awards for its food.
Departure Day. On your departure day a private car will pick you up and take you to the train station in Freiburg. Enjoy the scenic ride into town!
Add-on a Guided Hike
Good to know: if you prefer to hike with a guide on your first you can add-on a private hiking guide. This gives you a change to meet a local and get the insights on the area.
Add-on a night in Freiburg
Its easy to add-on a night in Freiburg either before or after your 2 day hiking adventures.