New in 2023, St Peter's Way takes you from the high Black Forest mountains, all the way into Freiburg – the capital of the Black Forest. This is a trail for people who want to immerse themselves into the beauty of the Black Forest. St Peter's Way offers scenic views, waterfalls, hikes along streams and remote mountain towns. On the last day the distance can be challenging, therefore this is not necessarily a trail for first time hikers. If you prefer to hike with a guide, we can add-on one of our guides on the first day of St Peter's Way.
We Handle All The Details and Logistics
Luggage Transfer Included
Hotels Included
3 days
Detailed Route Descriptions & Maps
We are a phone call away, just in case
Moderate hikes and plenty of scenery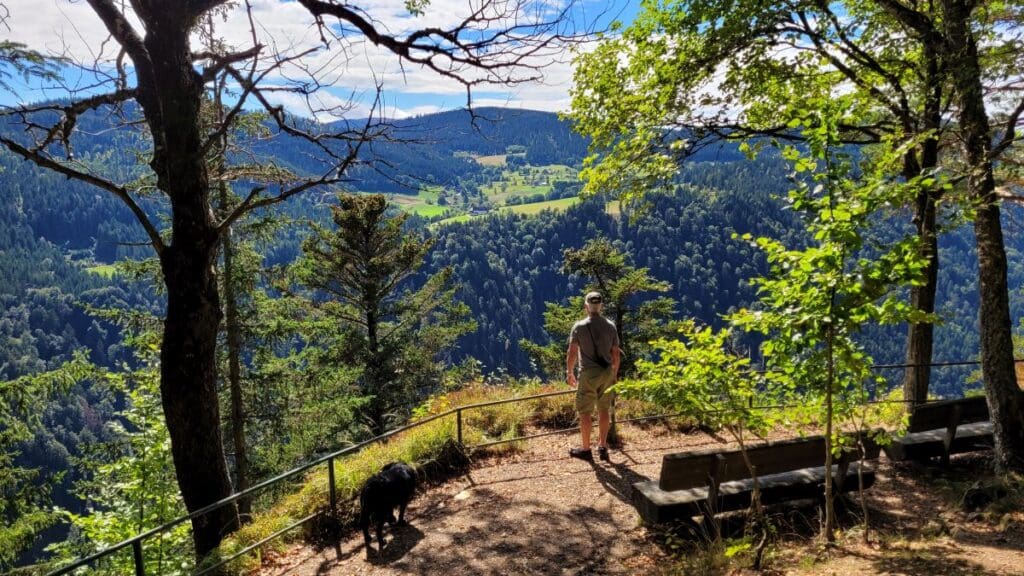 Partially unknown to tourists
St Peter's Way offers a good combination of scenic views, forest and fauna, streams and waterfalls, remote mountain towns and family-run hotels. Although you may encounter a tourists or two at well known points of interest (we will point them out so you know what to expect), the trails of St Peter's Way are mostly unknown – except to local hikers.
Some days can be challenging due to the rather long distances (18 km on the last day) – the trail is therefore not recommended if you have never hiked before.
If you prefer to hike with a guide at the beginning of St Peter's Way you can add-on one of our hiking guides on the first day. This gives you a change to meet a local and get the insights on the area.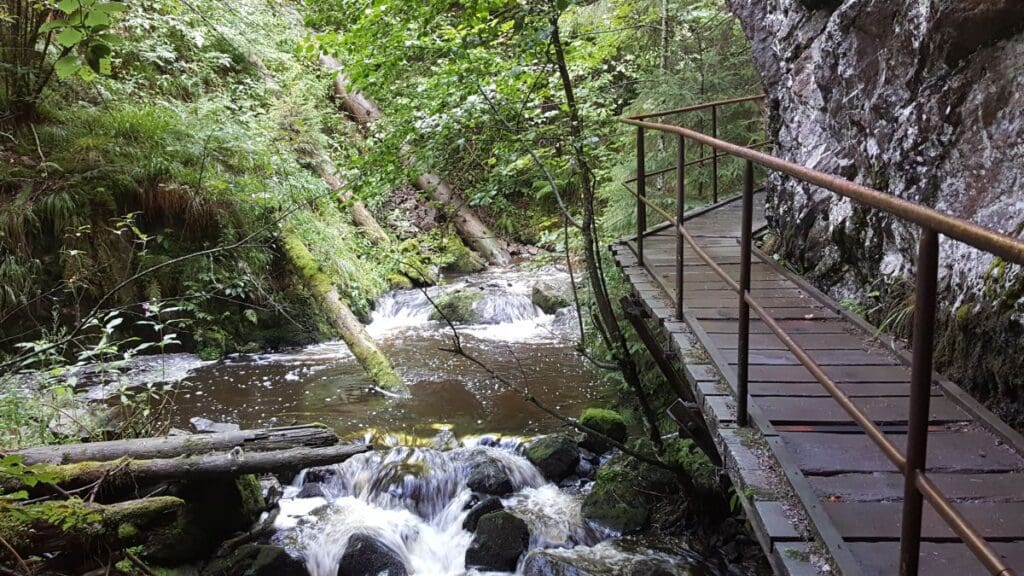 From the mountain top into the valley
To get to the trail head you will take the train from Freiburg into the the mountains. Here, a little below 1000 metres, you find your first hotel. Explore town prior to your first hiking day. (Good to know: If you are interested in some touristy sights, for example Lake Titisee you could visit them on your arrival day).
Day by day, the trails of St Peter's Way slowly wind themselves through the mountains, along streams and passing by waterfalls. Each night you have the opportunity to enjoy local foods at restaurants we recommend.
Looking for a challenge?
If you are looking for a challenge we are giving you a chance on day 2.
Either choose the shorter trail of 9 km which is easy and offers gorgeous panoramic views.
Or choose a challenging trail of 14.5 km which takes you into some difficult terrain (pictured below). On this trail good shoes are neccessary and hiking poles are a must. Be careful – on a rainy day this trail should be avoided altogether. If you want to add-on even more distance you can do a 4 km detour and eat lunch at a farmhouse. Those who know, come from far away to eat their homemade sausages here.