We are in cuckoo-clock country!
That's how you feel once you enter the area in the Central Black Forest where cuckoo clocks have been manufactured for centuries. The World's largest cuckoo clock can be found here. And not only that, there is also The World's Widest Cuckoo Clock, The World's Tallest Cuckoo Clock and The World's Oldest Cuckoo Clock. A quarter before the hour, you'll see people lining up in front of the clocks waiting for the cuckoo to come out for its hourly appearance.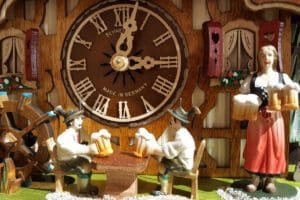 Touring with us at Black Forest Tours means you will visit the places where the first cuckoo clocks were made. We can take you to one of the last remaining cuckoo clock factory in the Black Forest on special request.
Here you can see how a cuckoo clock is built – from the carving of the wood to the painting of the cuckoo that lives inside. You get to see each step of the process of building a clock. Because they are slowly hand-crafted, there are very few real Black Forest cuckoo clocks available for sale – most are mass-produced copies. The authentic clocks come with a certificate and lifetime warranty.
If you are lucky on the day of your visit, the owner of the cuckoo clock factory may be present, and he can autograph your authentic Black Forest cuckoo clock.